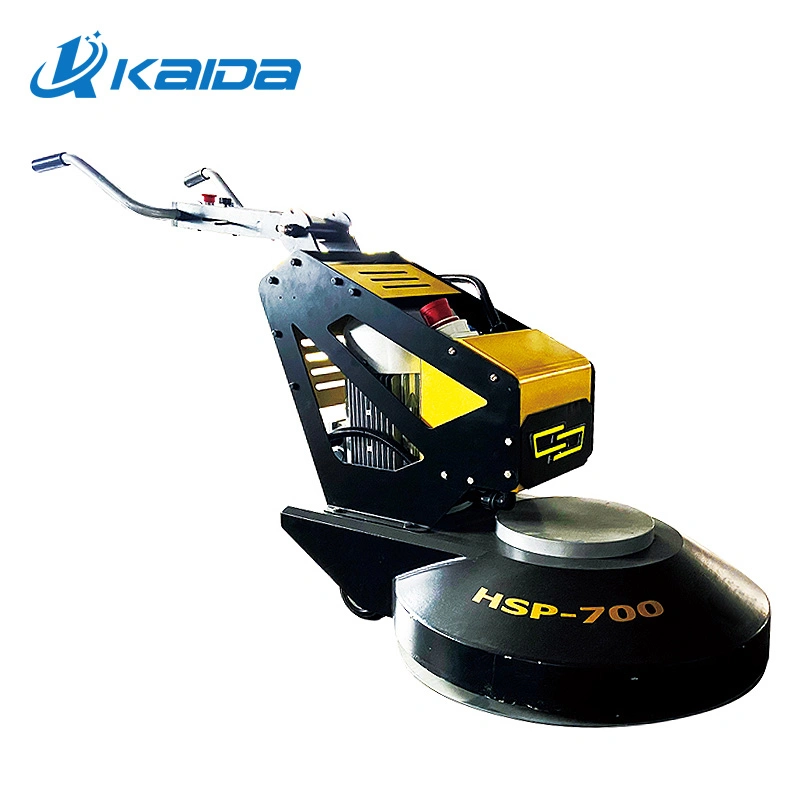 | | |
| --- | --- |
| Model | KD-HSP700 |
| Motor | 9.5KW |
| Inverter | 11KW |
| Voltage | 380V |
| Weight | 200kg |
| Work area | 27inch |
| Rotating speed | 0~2100rpm |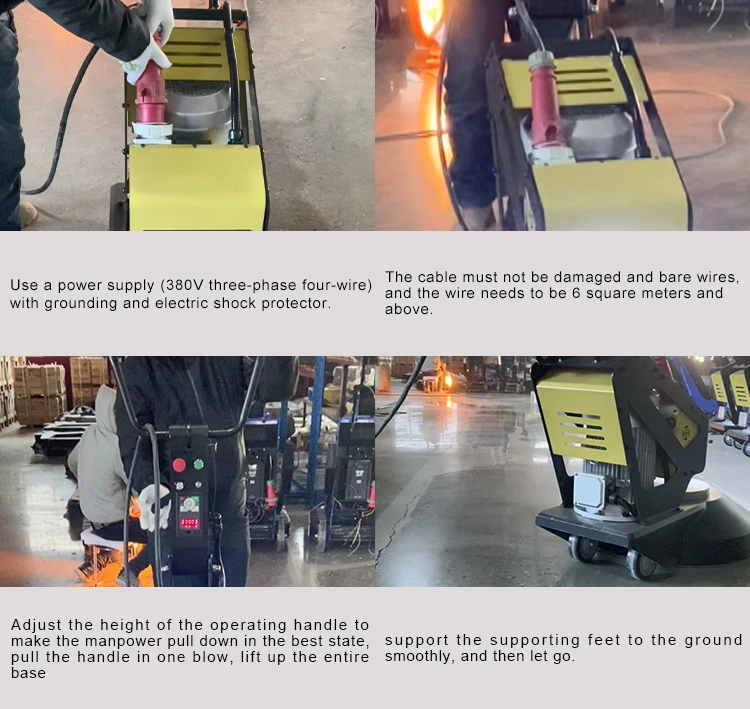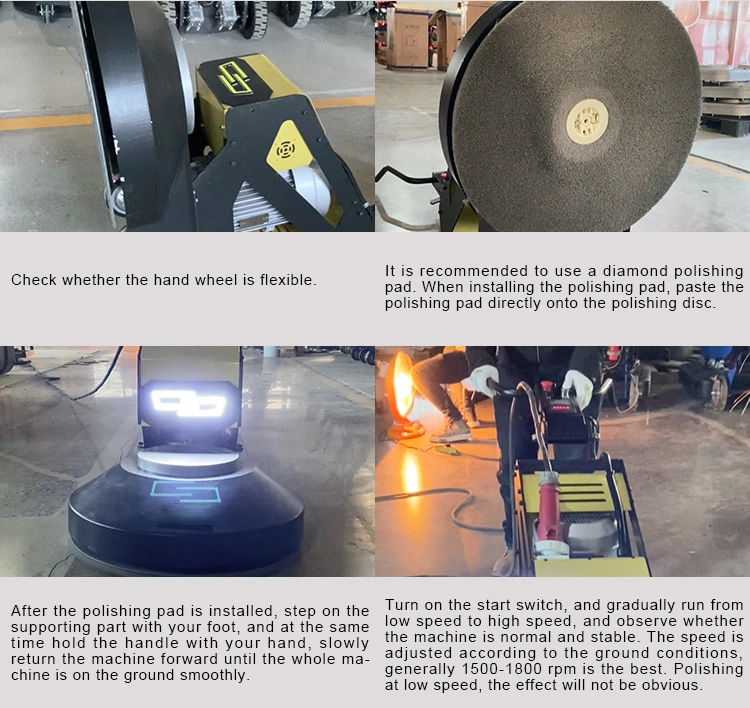 Product/User Benefits:
Increased productivity and grinding performance

Easy handling thanks to ergonomic control elements, fixed speed as well as low noise and vibration levels

Fatigue-proof working and reduction of side forces because of outstanding machine balance

Maximum durability and load capacity due to very robust construction

Impressive mobility as well as trouble-free transportation thanks to detachable machine parts

Time saving patented quick tool fixing system

Dust-free operation because of floating cover in combination with reliable dust collection system
Grinding concrete/epoxy floor/ solidified floor/ terrazzo floor /granite floor /natural marble floor /diamond abrasion resistant floor /self leveling cement,etc ,places requiring surface treatment

Removal of paint, epoxy, glue and other coatings from concrete

Preparation of concrete for installation of new flooring/coating

Elimination of irregularities in concrete

Repair of damaged concrete

Sealing preparation

Renovation works
Product Features:
Preparation before operation
1.Use a power supply (380V three-phase four-wire) with grounding and electric shock protector.
2.The cable must not be damaged and bare wires, and the wire needs to be 6 square meters and above.
3.Adjust the height of the operating handle to make the manpower pull down in the best state, pull the handle in one blow, lift up the entire base, support the support foot to the ground smoothly, and then let go.
4.Whether the hand wheel is flexible.
5.It is recommended to use a diamond polishing pad. When installing the polishing pad, paste the polishing pad directly onto the polishing disc.
6.After the polishing pad is installed, step on the supporting part with your foot, and at the same time hold the handle with your hand, slowly return the machine forward until the whole machine is on the ground smoothly.
7.Turn on the start switch, and gradually run from low speed to high speed, and observe whether the machine is normal and stable. The speed is adjusted according to the ground conditions, generally 1500-1800 rpm is the best. Polishing at low speed, the effect will not be obvious.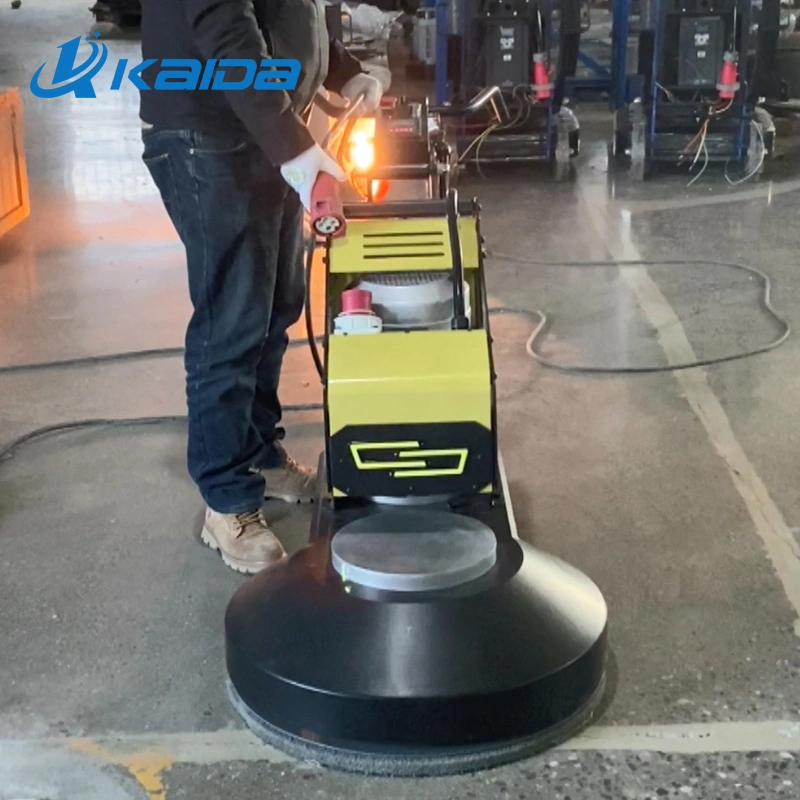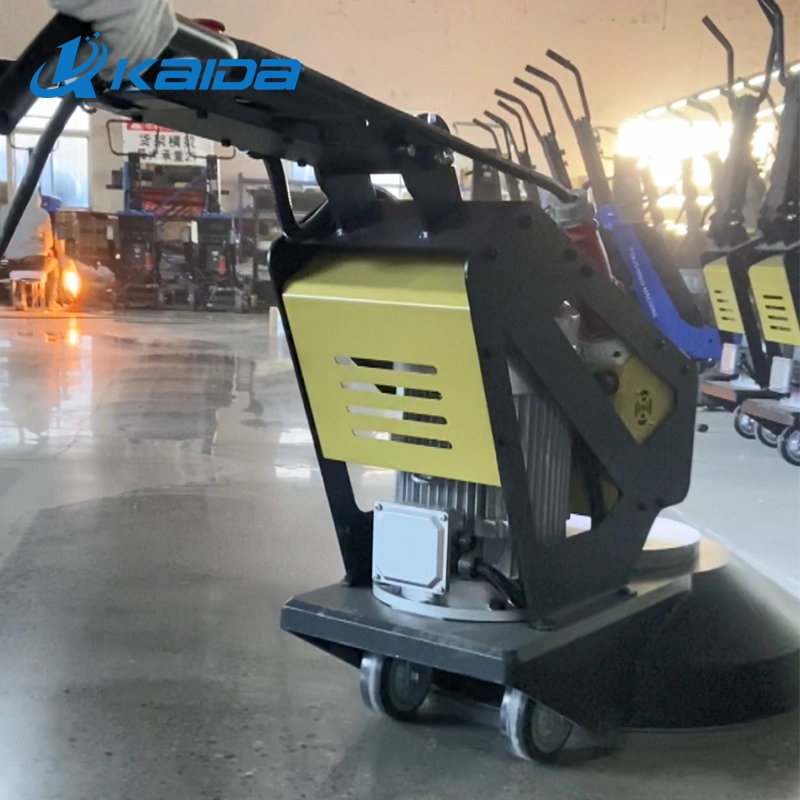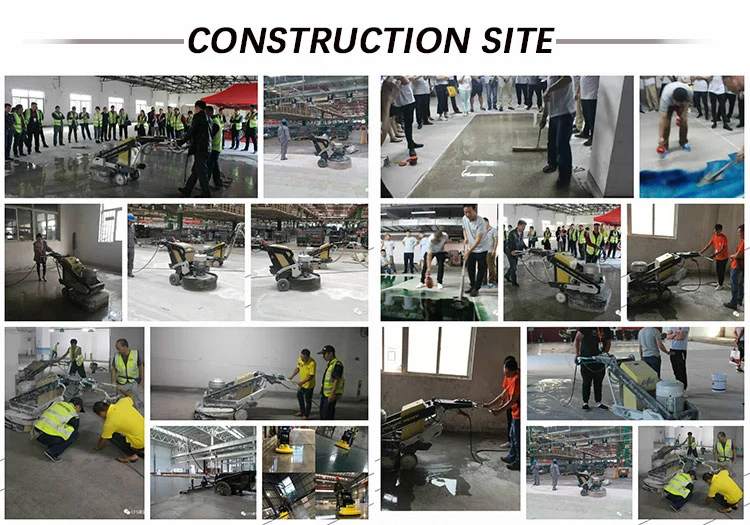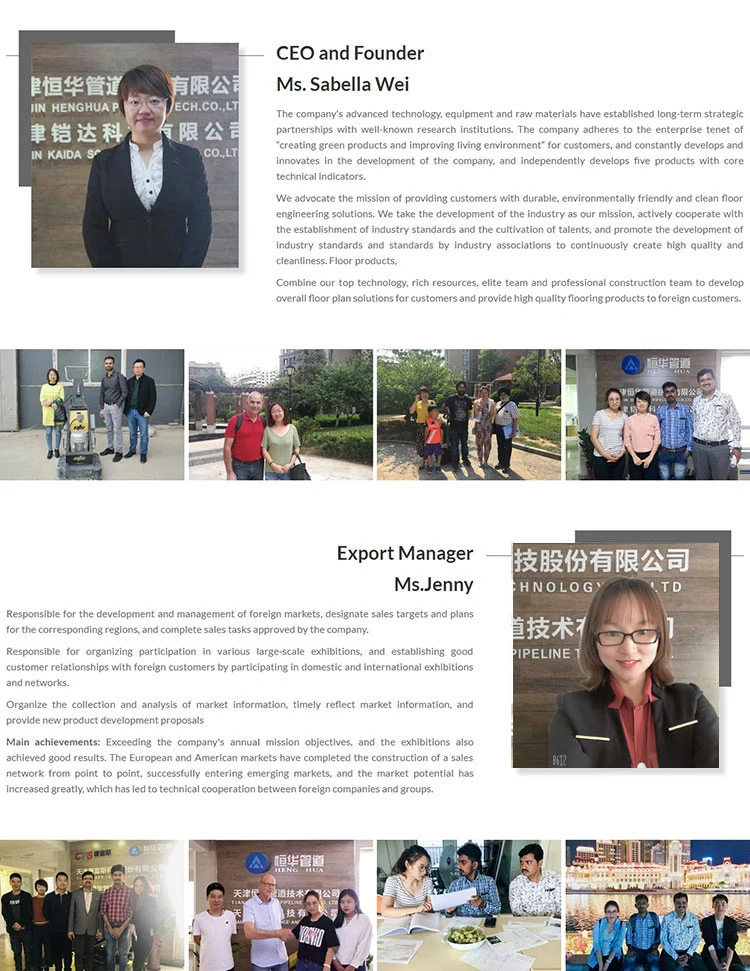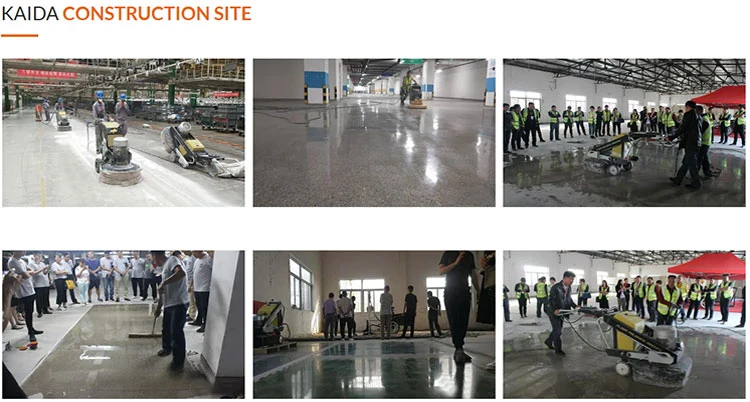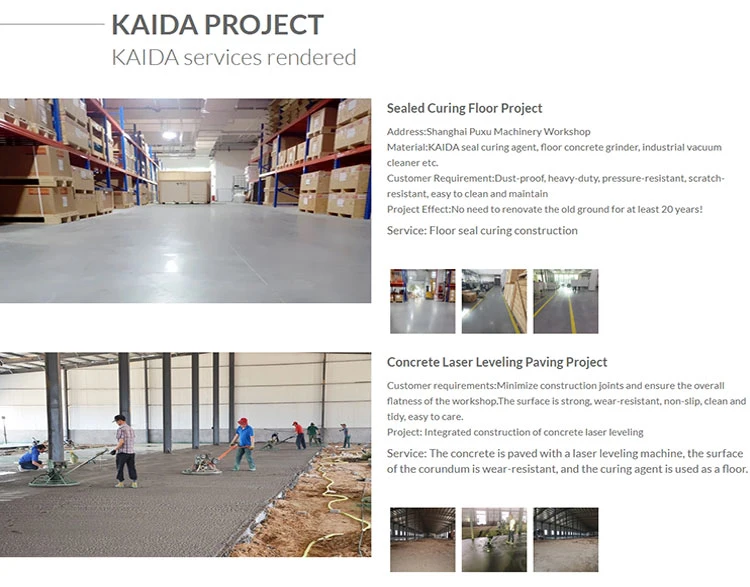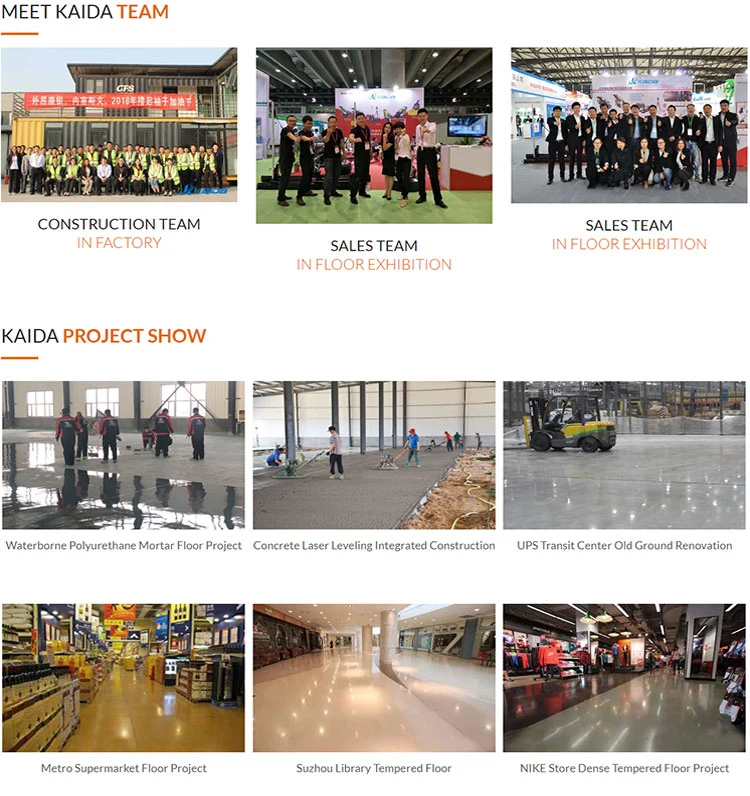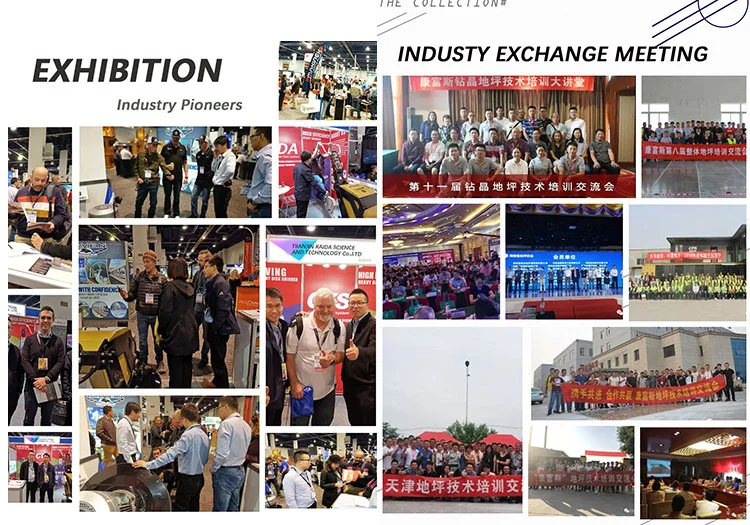 FAQ:
Q1:Are you trading company or manufacturer?
A1:We are manufacturers and we have our own factories. Our other company (company brand: KAIDA, product brand: CFS) specializes in floor grinder products and has 15 years of flooring experience. Welcome to visit our factory, we can also provide the best suitable flooring construction solution for you.
Q2:What are the advantages of your products compared with other products?
A2:Our products are excellent in terms of productivity, handling, reliability and construction results. Products warranty for 3 years, however other grinder brand warranty is only 1 year.
Q3:Are the grinders will come with accessories?
A3:es,all the grinders include tool box and necessary accessories.
Q4:Can the grinders bi used for polishing?
A4:Yes,of course. They can do both grinding and polishing.
Q5 :Can you customize the machine for the customer?
A5:Yes. We can, we also provide OEM for customers; If you need customized services, please contact us
Q6:What is the MOQ?
Q6:We usually provide 1 set for customers to test.
Why do you choose us?
1.We have high inquiries and sales quanlity on other website in addition to alibaba , which means our products are so popular.
2.High cost performance. With the same quality and function, our price is competitive in the market
3.Floor machine industry pioneer in china, to participate in the exchange and exhibition, the products are widely used in southeast Asia, Europe and the United States and other markets
4.High quality products, high effect,easy to learn and easy to operate, even if it is a heavy machine, a woman can operate
5.Research and development ability. each product is patented
6.Teach you how to operate as well as quality assurance, after-sales service
How do you judge the quality of a floor grinder?
Floor construction will use the ground grinding machine, and want to do a piece of ground, technology, theory, experience is very important, the choice of machine is also very important, good machine is indispensable to make a good ground.
1, work efficiency
Work efficiency is an important indicator of major machinery and is directly related to construction costs and profits.
2, handling
The maneuverability is whether the operation of the floor grinder is stable and the labor intensity of the operator is appropriate.
3. Reliability
Reliability refers to the failure rate of mechanical equipment and the stability of operation.
4. Construction results
The result of the construction is the ground after the ground grinder has been ground, and it works well in terms of flatness, gloss and clarity.