Ultra High-Pressure Water Cleaning Pump, Water Cleaning Machine
Introduction:
We, Henan Boy Machinery, are a leading manufacturer in the water blasting and jetting industry. For machine under 1000bar, all of the main parts are supplied by us. As per the machines above 1000bar(our standard products are 15000psi(1000bar), 20000psi(1400bar) & 40000psi(2800bar)), we cooperate with German and US teams and have rich experience in the machine in China with much lower price and shorter delivery time. Until now our products are widely used in below industrial field:
Stone Cutting
Pipeline cleaning
Chimney cleaning
Cooling tower cleaning
Fuel tank cleaning
Equipment maintenance
Floor cleaning
Car painting & grating cleaning
Vessel cleaning
Undersea device cleaning
Drying oven cleaning
Fluid statics test
Water jetting cutting
Diesel Engine Driving UHP Water Cleaning Machine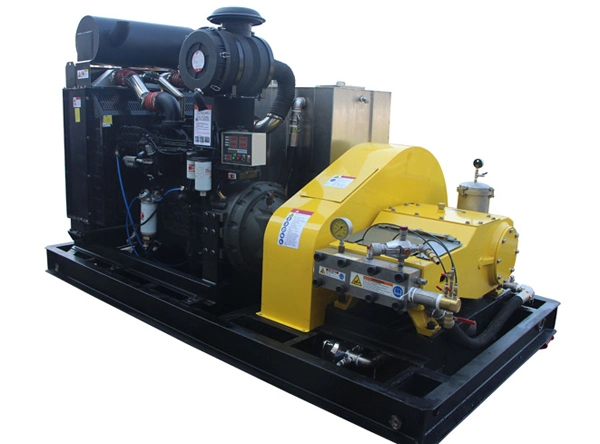 Electric Motor Driving UHP Water Cleaning Machine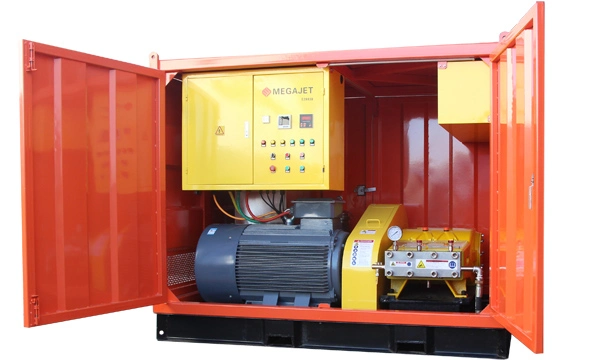 Main Specifications:
| | |
| --- | --- |
| Item | Descriptions |
| Typical Fixing Method | Skid, Trailer, Container or Customized |
| Driving Method | Motor, Diesel Engine or Gasoline Engine |
| Standard Pressure | Surface, Tube or Pipeline Cleaning |
| Standard Flow Rate | 25L/min-125L/min |
| Input Power | 60Kw/75HP-350Kw/420Hp |
| Typical Applications | Surface, Tube or Pipeline Cleaning |
| Gun Type | Dump Style, Shut-in Style or Foot Gun |
| HP Hose | 600bar - 3500bar |
| Nozzle Type | Rotary, Banshee, Tornado, etc Stonage Supplied |
| Plunger Size | #6, #7, #8, #9, #10, #11 |
| Pressure Releasing Method | Manual, Foot Gun or Pressure-adjustable Valve |
| Diesel Engine Supplier | Cummins or Customized |
Typical Applications Showing(Surface & Tube Cleaning System):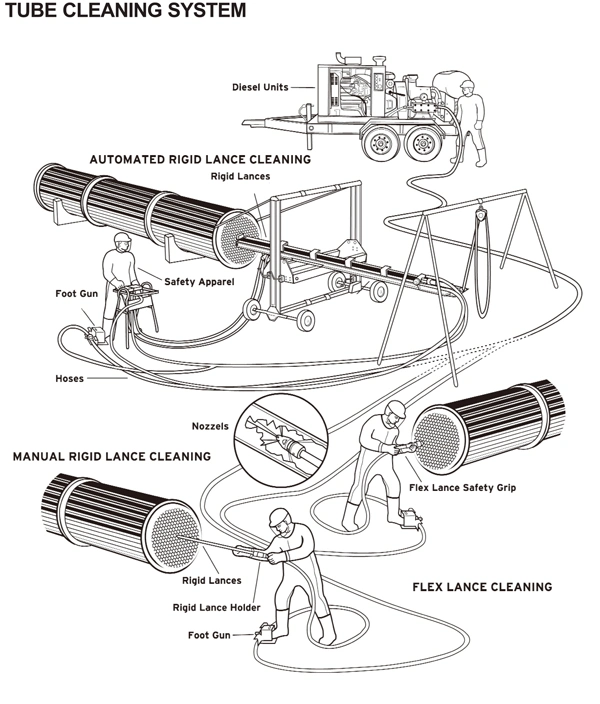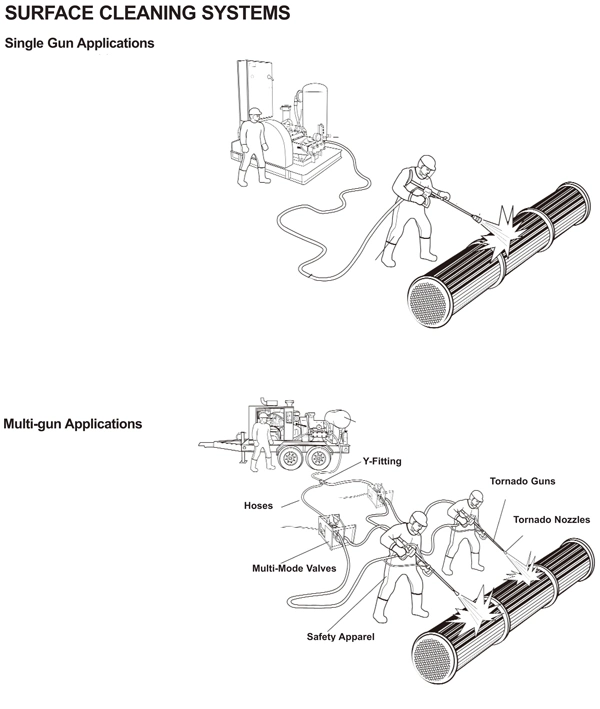 Standard Features:


. High performance John Deere, Cummins, or Caterpillar diesel engines from 174 to 300 horsepower
. PTO clutch and covered belt drive
. Superior performance, greater flexibility in the field, and reduced downtime and maintenance
. State-of-the-art controls
- Hydraulic or electronic throttle control
- Hand-adjustable bypass valve
- Shutdown system to protect equipment
. Two rupture disc holders
. 1/4" hot dipped galvanized steel atmospheric water tank
. Dual water filtration system
. Toolbox to store additional fluid ends, supplies, and tools
Options


• Fuel-saving hydraulic throttle control idles engine when system pressure is relieved
• Charge pump for pressurized feed
• Greaseless spread-bearing PTO
• Manual transmission drive
• Packing lube water recirculation package
• Safety package with fire extinguisher and grounding strap
• Severe service relief valve to replace one rupture disc holder
• Shut-in regulator valve
• Safety watch shutdown system
• Air-compressor package
• Direct water feed (no water tank)
• Hose reel
• Toolbox to store additional fluid ends, supplies, and tools
• Workbench and vise
• Racks for hoses, guns and lances
• Low water shutdown system
• Lifting bail
• Pump oil level and temperature shutdowns
Electric Unit with a Container: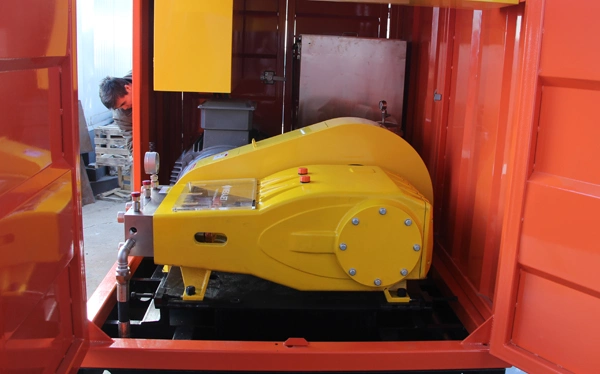 Diesel Unit with a Trailer: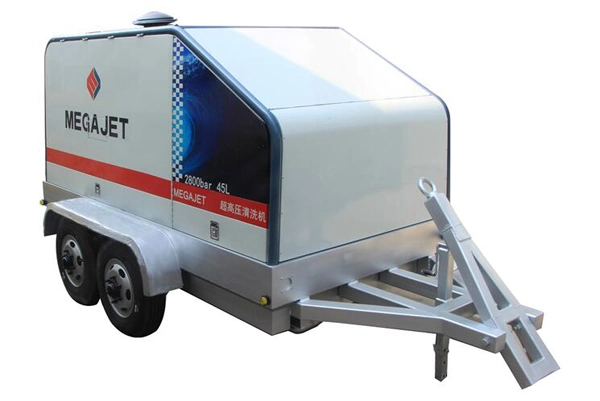 How to choose the right UHP water cleaning machine:
1. Confirm what will the cleaning machine be used for, surface cleaning, tube cleaning or pipeline cleaning.
2. What pressure is workable for the cleaning work?
3. What flow rate is workable for the cleaning work?
4. Which driving method is better for the cleaning machine? if it is motor, please confirm the local volt; if it is a diesel engine, please confirm the power.
5. What accessories and how many will be needed? such as guns, nozzles, and hoses.
6. If need a trailer or container to load the machine?
7. For safety, please confirm if need PPE.
8. Which port shall we ship the machine to?


What are different:
• Waterblast equipment up to 40,000 psi (2750 bar)
• Thousands of high-quality parts and accessories in stock and available for same day shipping
• 24/7 Support Program
• Comprehensive web site with online parts ordering
• High-caliber domestic and international sales teams offer unmatched expertise in products and applications to provide the best solution for any job
• Start-up training on all new equipment
• Fully staffed engineering and R&D departments
• Innovative UNx ® Fluid End - up to 40,000 psi (2750 bar) with upgrades available for most popular pumps.