Application:

The use of 3D epoxy floors has brought endless possibilities for floor design because now the flat surface can really make a statement. Furthermore, the addition of mind-blowing graphics to 3D epoxy surfaces has raised the bar for floor design even higher. This awesome technology allows home designers to lend an element of surprise that will surely amaze.

3D floors are not only applicable to public and commercial buildings. More and more companies have been introducing small-scale epoxy flooring systems suitable for private residential spaces such as villas, townhouses and small apartments. Now every home owner can bring these amazing surfaces into their rooms.

3D Epoxy Floors can turn all your creative ideas into reality.3D Epoxy Flooring can be used in:


--Breakrooms
--Museum
--Locker Rooms
--Rest Rooms
--restaurants
--nightclubs
--workshops
--Restaurants
--cafeterias
--reception area
--hotel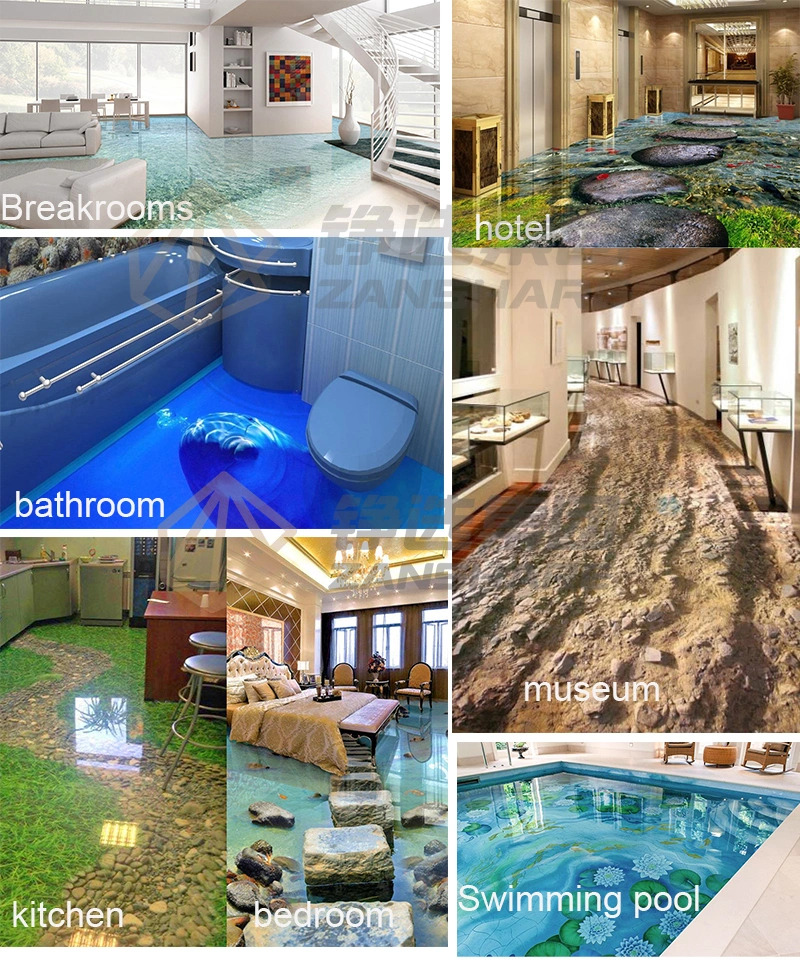 Description:

3D artistic solvent-free floor coating is a two component curing coating at room temperature. The component A is epoxy resin, and the component B is solvent-free epoxy curing agent.



Kit Contains:
A two-part 100% solids penetrating epoxy primer is layer of epoxy applied. This clear epoxy primer saturates and penetrates deep into the open pores of the concrete creating a powerfull mechanical and chemical bond that is guaranteed not to break.
The following day, a second layer of colored epoxy is applied. Our Epoxy Floor System allows you to easily cover 3d paint by our Clear Epoxy to create beautiful, high gloss epoxy floors. Our epoxy resin are available in hundres great colors to fit any situation. Colors can also be mixed to create endless combinations. For optimum color effects, a black base coat is recommended before applying your choice. If desired, simply add less pigment to achieve a more translucent color.
--UV Resistant Top-Coating
Top Coating protect the epoxy color middle coat and give high gloss like mirror for the finished epoxy resin floor coating Cover the last layer, after 8 hours the floor will become a hard-wearing durable surface. Scraped and brushed smooth the floor, You will get the shiny high-gloss surface that significantly increase the brightness of your interior areas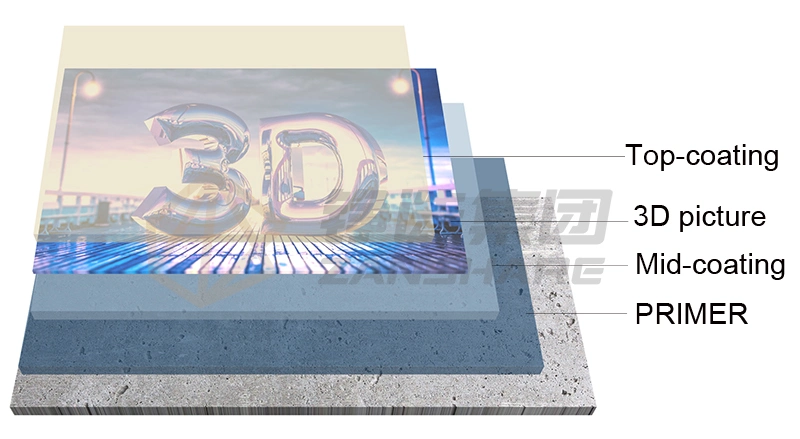 Advantage:
Visual effect - The most significant advantage of epoxy 3D floor is the stunning visual effect. In addition to the gorgeous appearance, it can visually solve many problems of the room interior because of the unique aesthetic qualities. By choosing the right 3D floor design, color and pattern, with the help of self-leveling epoxy coatings you can even visually increase the room space. It can help to implement the infinite imagination of the designer and attracts the eyes endlessly.
High strength - Epoxy is virtually impervious, and highly resistant to acids, chlorine and other materials such as bleaches and daily cleaners. For the very same reason, the floors are considered good for industrial sectors as well as for home. when properly installed, epoxy 3D floor can serve at least 15 years of age, without changing its color.
Easy maintenance - Epoxy 3D floor has no seams, joints, cracks, pores and gaps make the 3D flooring is absolutely immune to any kind of dirt, dust, water and chemicals.
Safe and hygiene friendly - Epoxy 3D floor does not accumulate dust and do not create a favorable environment for a variety of pathogens / bacteria. Epoxy floor materials used have no odor and corrosive fumes, and are safe for human health, which is mandatory and confirmed by the manufacturer certificates. It is important also that epoxy materials are very resistant to high temperatures such as in the event of fire.
Fire resistance - Epoxy / polymers do not burn, it is one of the reasons that the coating used in manufacturing, warehouses, hospitals, child care centers and other places where increased control of fire safety are needed.



Technical Parameters

The following performance data are typical data measured in a laboratory environment at 25 °C and a humidity of 70%, and are for customer reference only.

State in container

No hard lumps after mixing.

Density, g/ml

A

B

1.15

0.96

Mixing ratio

100

33

Surface drying time, ≤

2h

Complete drying time, ≤

24h

Hardness, ≥

90

Adhesion, ≤

level 0

Slip Resistance (Dry friction coefficient), ≥

0.5

Water resistance

172h

Wear resistance(750g/500r)/g, ≤

0.06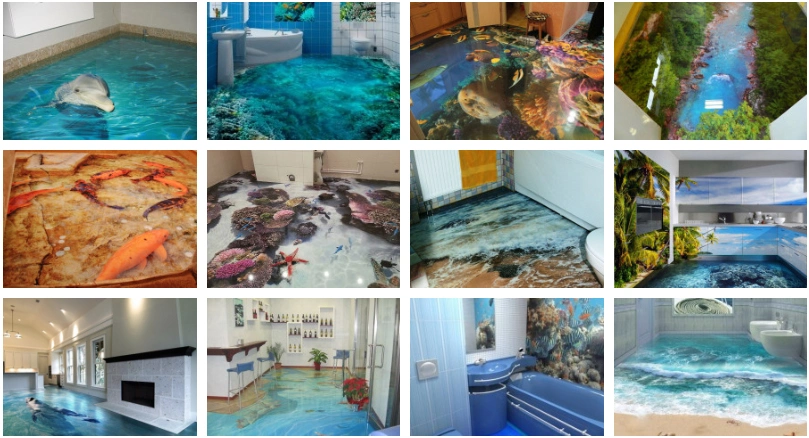 Construction reference:
(1) SURFACE PREPARATION:- Surface should be Dry, clean, even and free from dust, dirt, paint, rust, Algee, grease, soluble salt, or other contaminations and Damp free. Surface should be rough and clean.

(2)Apply Primer Coat:-Mix the polymer in given ratio and remove bubbles by applying vacuum for some time and vacuum the bubbled Air.

(3 24 hours or after 4-6 hours (check apply screed coat before surface dry) Apply screed coat(mid coating) on primer coat for leveling is required. Mix as per given ratio. Make sure surface should be very smooth, if not prepared by sanding.

(4) Fix the choice design or a painted the designs:- Prepared painting or a fix the sheet of design as per your choice. If sheet is not self gumming , so apply any below Epoxy as a primer. Apply very thin coat. Aftre 24 hours.

(5) Apply last clear top coat on designs:- Mix the partA and Part B in given proportion, and apply on designs apply by roller, brush or a spray , as per suitable methods.


Factory introduction: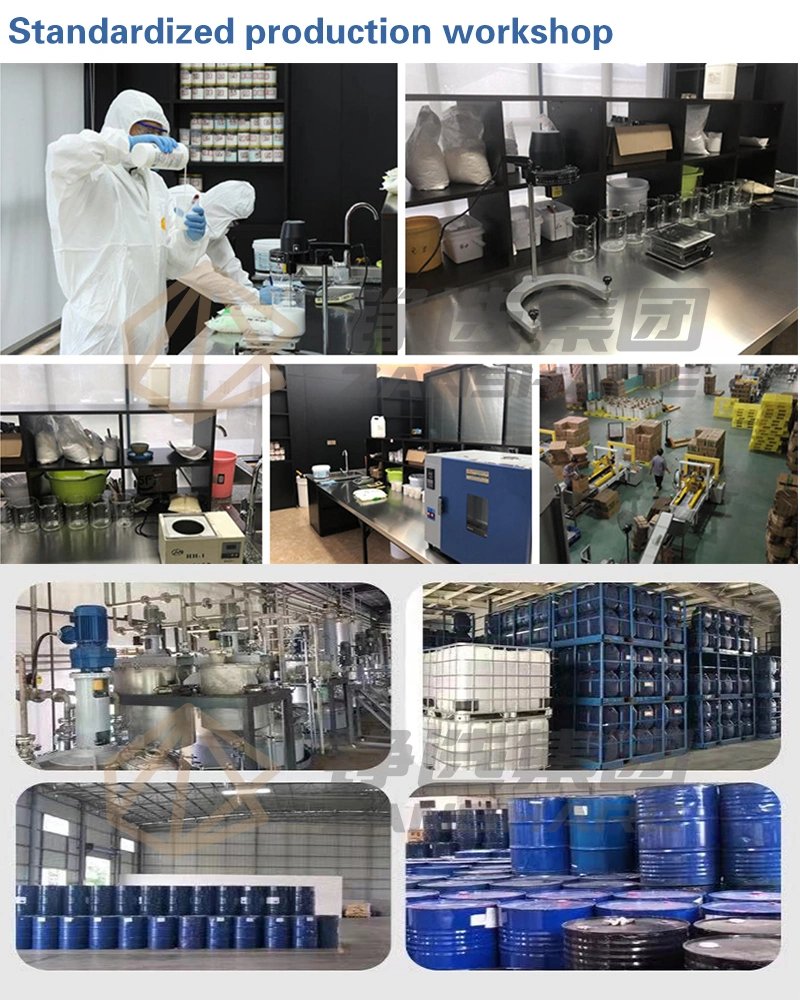 FQA
Q: Can I be your agent?
A: Sure, we are looking for agent all over the world.
Q: Sample is free?
A: Yes, we provide free samples, you only need to pay the freight.
Q: What's the payment?
A: We prefer T/T 30% deposit in advance, 70% balance T/T before the shipment!
Q: What is the min. order quantity?
A: MOQ is 300 kg/ color.
Q: What is the delivery time?
A: Within 10 days since received the deposit.