FoldingTiller Machine/Land Preparation Machine/Soil Preparation Machines/Heavy Disc Harrow (factory selling customization)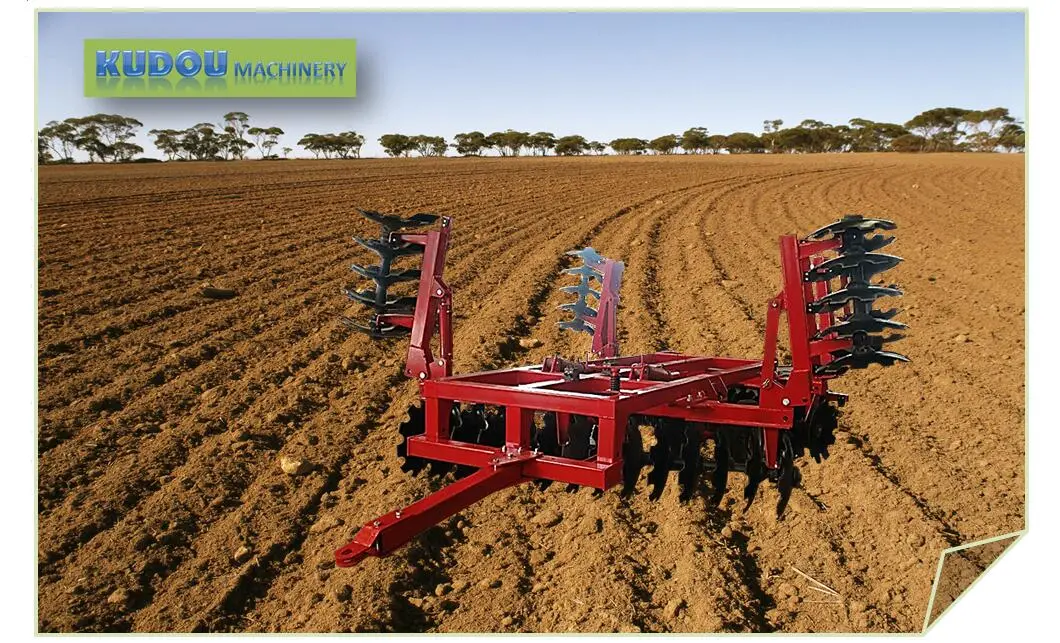 Model

Unit

1BZ-1.8

1BZ-2.2

1BZ-2.5

1BZ-3.0

1BZ-3.4

1BZ-4.0

1BZ-5.0

Working width

mm

1800

2200

2500

3000

3400

4000

5000

Working depth

mm

120-200

No. of discs

pcs

16

20

24

28

32

35

48

Disc diameter

mm

660

660

660

660

660

660

660

Weight

kg

1100

1250

1350

1450

1550

1700

2000

Tractor power

hp

70-85

80-90

85-100

90-120

120-150

140-160

≥

180
Linkage

Trailed
FoldingTiller Machine/Land Preparation Machine/Soil Preparation Machines/Heavy Disc Harrow (factory selling customization)

is mainly applicable for breaking up the clods of farmland ,light soil after furrow ,loosening soil and mixing soil and fertilizer before sewing .It has the features of reasonable structure ,strong ability to rake ,durable ,easy to use and maintain ,strong crashing-earth ability and ground flat after working ,etc .




Tiller machine equipment/ Tractor disk harrow/rolling harrow/heavy disc harrow bearing for farm (customizable) is designed for field work as crop residue processing before tillage breaking hardened and impervious soil surface, crushing and spreading straw, shattering soil after tillage, planning the land and preserving soil moisture it can be used on cultivated land for tillage harrowing instead of plough. This harrow has high harrowing capacity with reasonable utilization of power, great ability to penetrate and shatter the soil, level soil surface and loosen soil after harrowing, being well suitable for heavy clay soil wasteland and weedy field as well.





Having absorbed all advantages from exotic machines and designed according to the standard of ASME, this harrow has adopted combined structure whose rigid frame is welded with square tube, equipped with hydraulic up-and-down road wheels, spring leveling device and sealed bearing with spheroid outer surface and square inner hole special for disc harrow.





Therefore this machine easy to move with small turning radius, simple to be adjusted and maintained technologically advanced in configuration, is an innovated farm implement with long service life famous in China.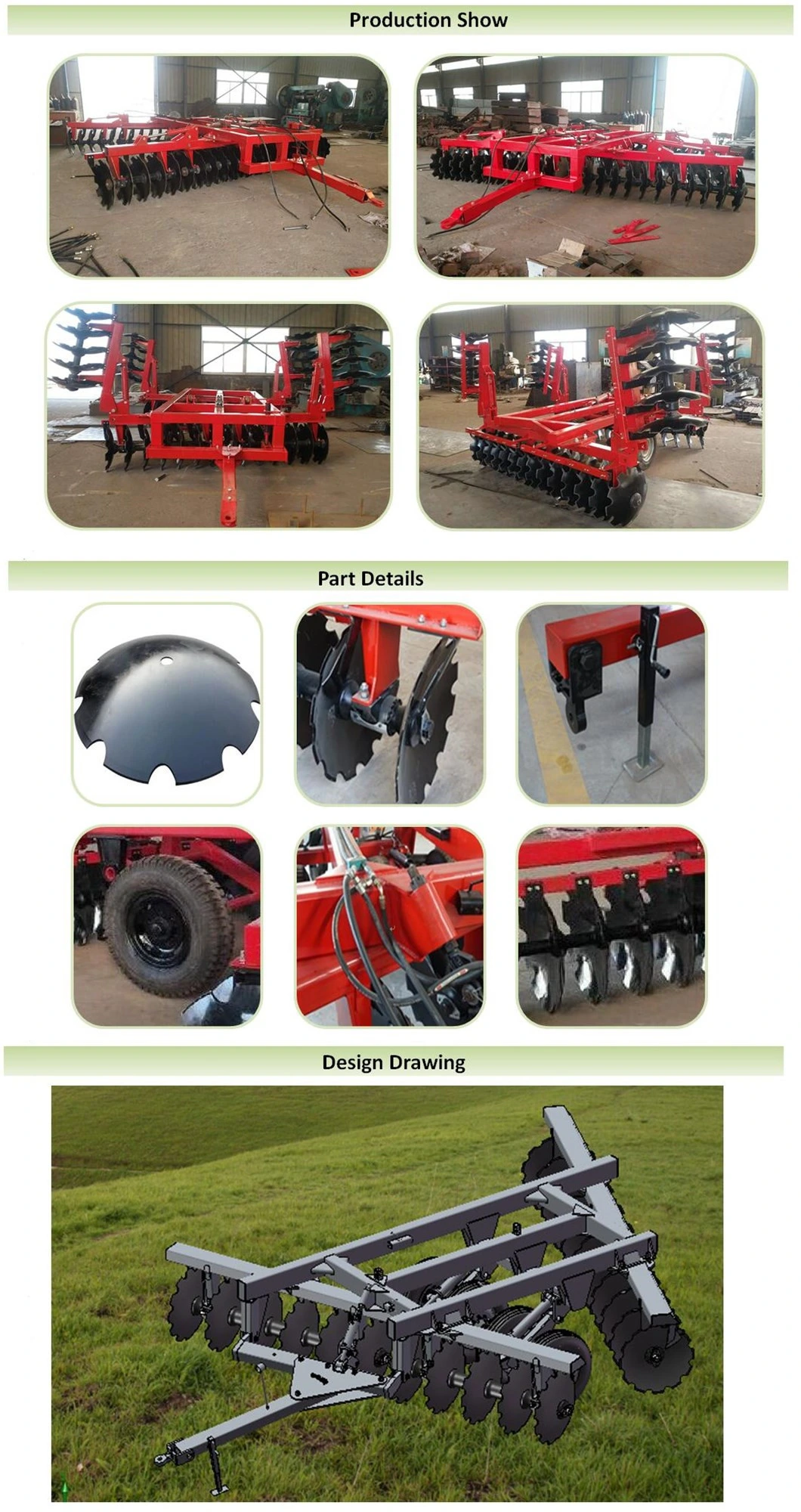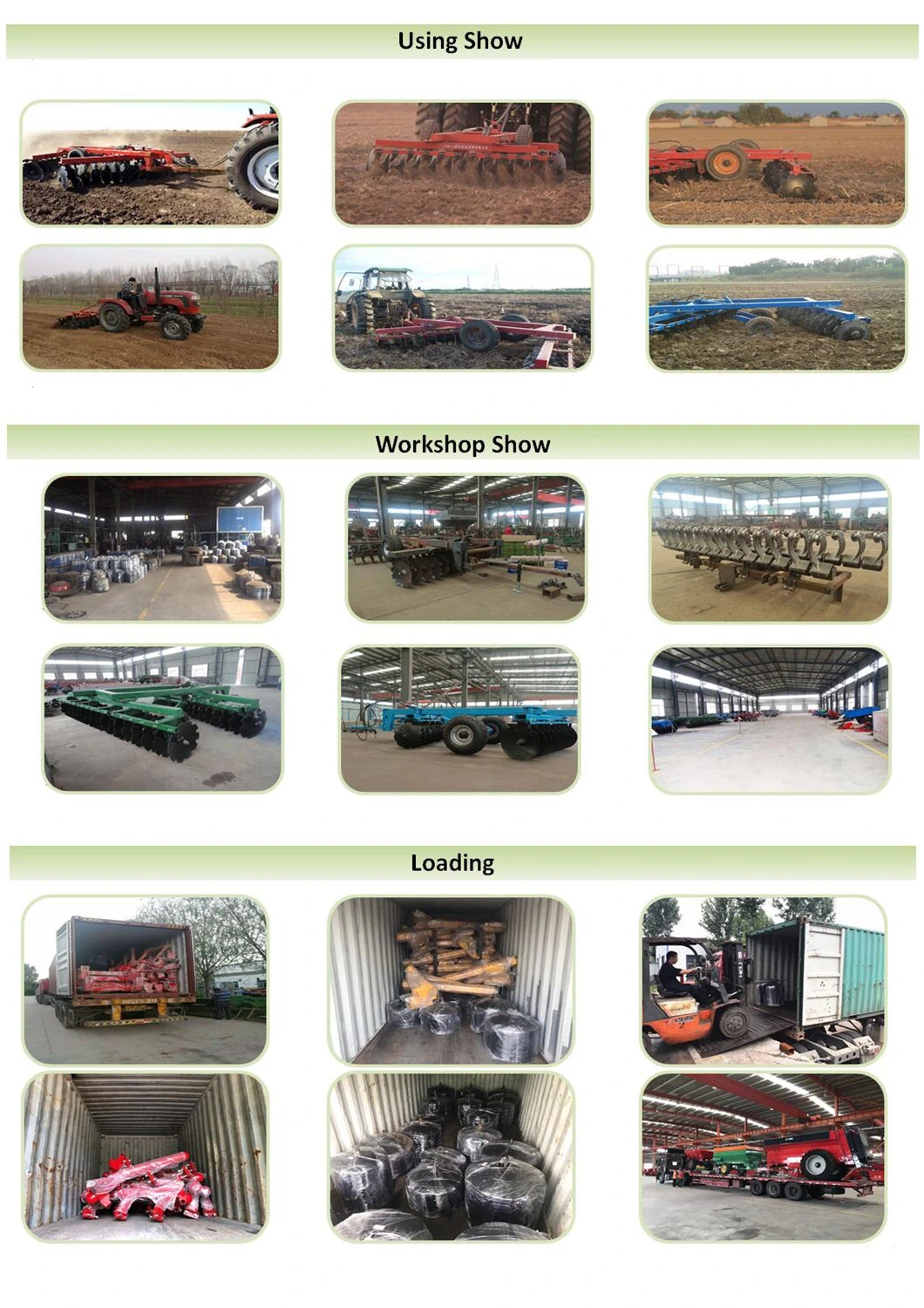 Pre-sales Service
1. Technical Consulting Service
Our wide product range enables us to provide most flexible, efficient and reliable equipment configurations or complete solutions for customers according to different requests and budgets.
2. Company and Production Line Visit
Before placing orders, customers are warmly welcome to visit factory and our facility. We can also arrange the visit to our existing customers to learn the operation condition of our machines and complete plant.
In-sales Service
1. Reliable delivery time.
2. Strict quality control by in-production 100% check and test.
3. User manual and spare parts provided for free.
4. Transportation(EXW/FOB/CIF/C&F/CFR/DDU/DDP)
After-sales Service
1. Fast technical guidance for construction, installation and commissioning.
2. Necessary training for daily maintenance on site.
3. 12 months warranty.
4. Lifelong regular technical service.
5. Timely solutions to problems.